e-Application
Online web application service for surveys and audits linked with NK-SHIPS information.
e-Application is an online application service for class surveys and statutory surveys of ships in service, ISM/ISPS ships audits, MLC shipboard inspections, and ISM company audits. Since e-Application links with NK-SHIPS, applications for necessary surveys can be easily made using NK-SHIPS.
This service is available to NK-SHIPS registered users.
At the login screen, enter your NK-SHIPS user ID and password. After logging in, click the "e-Application Online application service for surveys and audits" link.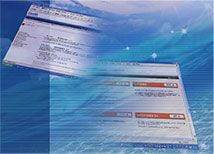 Please refer to the e-Application pamphlet found below for more details.
Applications and Inquiries
To register as an e-Application(NK-SHIPS) user, complete the "Application for NK-SHIPS Internet Service", and send the application to the Information Technology Dept.
Application and Inquiries about ID, Password
Inquiries about service details and operation
Information Technology Department,
NIPPON KAIJI KYOKAI
FAX: + (81)-43-294-7204
E-Mail: isd@classnk.or.jp
Nearest ClassNK Office (Refer to Directory) or
Survey Department, NIPPON KAIJI KYOKAI
FAX:+(81)-3-5226-2029
E-Mail: svd@classnk.or.jp
Related Sites