PrimeManagement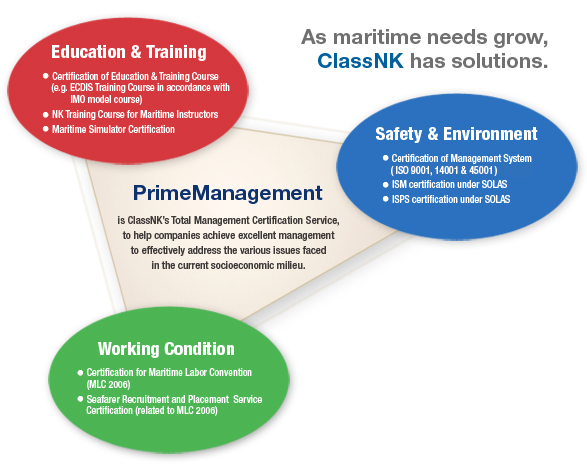 Total Management Certification Service
PrimeManagement is ClassNK's Total Management Certification Service, created to help maritime companies around the world achieve excellent management to effectively address the various issues faced by companies in the turbulent maritime industry under the current social and economic milieu.
As part of our PrimaManagement suite ofservices, ClassNK offers various certification services for Safety & Environment, Education & Training and Working Conditions that are acclaimed internationally for their high quality.
In addition, PrimeManagement makes it possible to reduce the burden on companies by conducting the audit of multiple management systems simultaneously considering the needs of our clients.
Major certification services under PrimeManagement
The major certification and training services offered as part of ClassNK's PrimeManagement suite include;
(Education & Training)
(Working Condition)
(Safety & Environment)