Software for CSR-BC and CSR-OT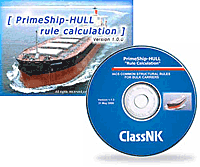 Introduction
ClassNK has developed and released advanced calculation software called "Primeship-HULL (CSR)" for the Common Structural Rules for Bulk Carriers (CSR-BC) and Common Structural Rules for Double Hull Oil Tankers (CSR-OT).
On this page you will find a summary of the software, the software's hardware requirements, and information on how to apply for the software.
PrimeShip-HULL(CSR) users can gain access the user support site, which offers beneficial information for users, such as updates, FAQs, bug information, etc. Please use the user ID and password assigned to your software to login.
Rule Calculations
The rule calculation systems provide the necessary information and report outputs for CSR-BC and CSR-OT application. The rule calculation systems can provide you with cross section calculations, hull girder strength assessments, local strength assessments, fatigue strength assessments and buckling strength assessments, etc. based upon inputs of arrangements and gross scantlings for cross sections as shown below in figure on the left.
Direct Strength Analysis
The direct strength calculation tool can conduct Finite Element Analysis (FEA) and provide strength assessments as shown below in the figure on the right. The system is based upon MSC.Patran and it strongly supports structural assessment work by providing design loads, boundary conditions, etc. in accordance with the requirements of the CSR-BC and CSR-OT so that a series of direct strength analyses can be performed.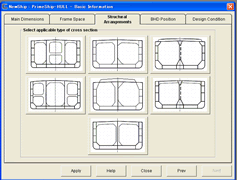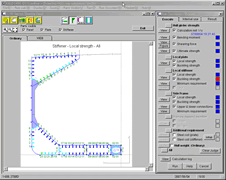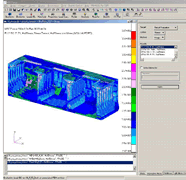 Latest version
| System | Latest version | Released date | Ship type |
| --- | --- | --- | --- |
| Rule calculations for bulk carriers | Ver.8.1.0 | 30 May 2016 | Bulk carriers |
| Rule calculations for tankers | Ver.8.1.0 | 30 May 2016 | Double hull oil tankers |
| Direct strength analysis (FEM) | Ver.8.0.0 | 1 September 2014 | Bulk carriers and Double hull oil-tankers |
Hardware Requirements
Item
Rule Calculation Systems
Direct Strength Analysis System
OS
Windows 7, 8.1, 10
Winsdows 7
CPU
1GHz or faster
2GHz or faster
Memory
Recommended : 2GB or more
(Minimum:1GB or more)
Recommended : 4GB or more
(Minimum:1GB or more)
HDD Free Space
Recommended : 800MB or more (Minimum : 400MB or more)
10GB or more
Display
1024 × 768 or higher resolution monitor
1280 × 1024 or higher resolution monitor
Others
For bulk carriers: Microsoft Excel 2010, 2013, 2016
For tankers: Microsoft Excel 2007, 2010, 2013, 2016
·Patran2010(32bit or 64bit) or later
·MSC Nastran2005r2 or later*, or MD Nastran R1 or later
·Microsoft Excel 2003 or later
·Internet Explorer 6 or later
·Java Runtime 1.4 or later
· .NET Framework 2.0 or later
MSC.Patran and MSC.Nastran are required to use the Direct Strength Analysis System.
Please click here to apply
Applications and Inquiries
Application and related Inquiries
Inquiries about Software
Hull Department,
NIPPON KAIJI KYOKAI
Tel: + (81)-3-5226-2017
Fax: + (81)-3-5226-2019
emaill: hld@classnk.or.jp
PrimeShip-HULL Support Desk
(Hull Rules Development Department, NIPPON KAIJI KYOKAI)
Tel: +(81)-3-5226-2180
Fax: +(81)-3-5226-2172
email: primeship-hull@classnk.or.jp
Related Sites