NK-SHIPS
NK-SHIPS is a free, internet-based online information service for the owners and operators of NK-classed vessels or vessels whose ISM/ISPS are registered with NK.
NK-SHIPS users can retrieve important information vital for ship maintenance and management, such as survey status for class and statutory survey items and due dates, and ISM/ISPS audit status that assist in the maintenance and management of ships, 24 hours a day, from anywhere in the world via the internet. In addition, NK-SHIPS users can apply via the online web application service for surveys and audits linked with NK-SHIPS information.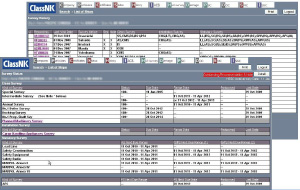 After registering as an NK-SHIPS user, information can be accessed by logging in through the web service portal.
Please refer to the NK-SHIPS Brochure found below for more details.
Applications and Inquiries
To register as an NK-SHIPS user, complete "Application for NK-SHIPS Internet Service", and send the application to the ClassNK Information Service Dept.
Application and Inquiries about ID, Password
Inquiries about Class and Statutory Services
Inquiries about ISM/ISPS Audit Services
Information Service Department,
NIPPON KAIJI KYOKAI
FAX: + (81)-43-294-7204
E-Mail: isd@classnk.or.jp
Classification Department,
NIPPON KAIJI KYOKAI
FAX:+(81)-43-294-5660
E-Mail: cld@classnk.or.jp
Safety Management System Department,
NIPPON KAIJI KYOKAI
FAX:+(81)-3-5226-2174
E-Mail: smd@classnk.or.jp
Related Sites