ClassNK e-Certificate
Optional service to issue/provide Class and Statutory Certificates with Electronic file
ClassNK e-Certificate issues and provides Full-term (Final) certificate(s) of Class, Installations Registration and each Statutory with Secured Electronic file (PDF) in place of traditional paper certificates.
(Optional Service)
The service offers the following features and is compliant with the IMO FAL guidelines (FAL 5/Circ.39/Rev 2).
Protects against tampering/falsification through Secure PDF and Digital Signature
Transmission of certificate files via secure web server
Online verification of authenticity
Easy access from mobile devices via QR (Quick Response) Code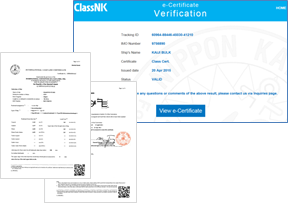 Please refer to the pamphlet below for more details.
Frequently Asked Questions
Please review the below frequetly asked questions.
Applications and Inquiries
To apply for this service, complete the "Application for ClassNK e-Certificate Service", and send the application to the Classification Department (Certification Section).
Application and Inquiries about service details and operation
Classification Department (Certification Section)
NIPPON KAIJI KYOKAI
TEL: +(81)-43-294-5784
FAX: +(81)-43-294-5449
E-Mail:
nkecert@classnk.or.jp
Related Sites