Introduction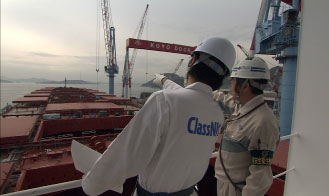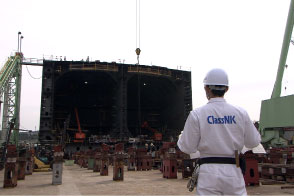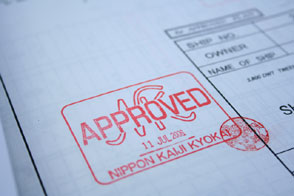 Nippon Kaiji Kyokai, known as ClassNK or NK, is a ship classification society. The Society is actively engaged in a growing range of ship related activities and services aimed at contributing to promoting the protection of human life and property at sea as well as protection of the marine environment.
The NK Mission:
ClassNK is dedicated to ensuring the safety of life and property at sea, and the prevention of pollution of the marine environment.
To achieve this mission ClassNK will: Focus on delivering the highest quality classification services, by the highest quality personnel, while maintaining its totally independent third party, non-profit status.
Focus on the development of relevant rules, procedures and guidance, and maintain and develop its commitment to scientific and technological research and development.
Maintain and develop its global operations in line with the needs of clients using its services. ClassNK has earned an outstanding reputation for its long-standing dedication to safeguarding life and property at sea and preventing marine pollution through the establishment of universally recognized standards for the design, construction and maintenance of ships and other marine structures.
The principal work of the Society's expert technical staff is to undertake surveys to ensure that the rules which it has developed are applied to newbuildings and existing ships to ensure their safety. The rules cover not only hull structures, but also propulsion systems, electrics,electronic systems, safety equipment, cargo handling gear, and various other areas. ClassNK's surveyors work in shipbuilding and repair yards and at ports across the world, wherever they may be called upon to examine the condition of a ship.
The Head Office is located in Tokyo and in Chiba, Japan, and there are branch offices at the major Japanese and overseas cities throughout the world. (see Contact us) As of the end of October 2023, the Society had 9,204 ships totaling over 272 million g.t. under class. This figure represents approximately 20 percent of the world merchant fleet currently under class.
Detailed Statistics on the Society's registered fleet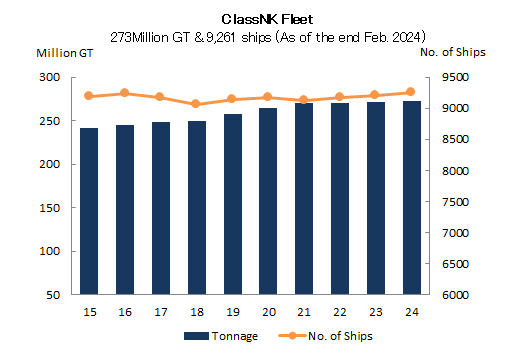 In addition to its classification survey activities, ClassNK conducts surveys on behalf of third parties including State administrations, offers technical services for offshore structures and onshore plants construction projects, accommodates requests for appraisals and engineering consultation, conducts research and development in various ship-related fields; provides quality-assurance certification of suppliers based on ISO 9001, 14001 and 45001 criteria*, and verifies the safety management systems of ship-management companies and ships, in accordance with the International Safety Management (ISM)Code and International Ship and Port Facility Security(ISPS) Code**.
* As of the end of October for ISO 9001, the number of registered suppliers was 483 while for ISO 14001, the number of registered suppliers was 141 and for ISO 45001, the number of registered suppliers was 43.
** As of the end of October, for the ISM code, the numbers of registered companies and vessels were 746 and 6,021 while for ISPS code, the number of registered vessels was 5,673.
ClassNK's slogan "CHARTING THE FUTURE"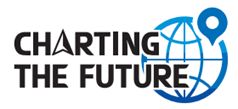 "CHARTING THE FUTURE" was established in April 2022 as ClassNK's slogan. Based on our Management Principles, Vision, and Mid-Term Plan, this phrase expresses our commitment to contribute that the direction of our clients and society moves in a better future.
The prime management policy of the five-year Mid-Term Plan〈midtermplan2022-2026_e.pdf (classnk.or.jp)〉 starting from 2022 is "Development of comprehensive services to meet a wide range of client needs".
In addition to the services to confirm compliance with regulations, etc., that have been the core of our business so far, we will further promote the development of evaluation and certification for initiatives that pursue higher reliability and sustainability.
As decarbonization and digitalization progress, let us build the maritime society of the future together with our clients, with a broad perspective, flexible thinking, and awareness of actively contributing to change, in the spirit of CHARTING THE FUTURE.