Innovation Endorsement Approach
As companies pursue ESG management and the SDGs to realize a sustainable society, various innovations have been vital to resolve challenges.
ClassNK has offered Innovation Endorsement (IE) as a framework to support innovative initiatives through third-party certification. The basic concept of IE is introduced here as "ClassNK - Innovation Endorsement Approach".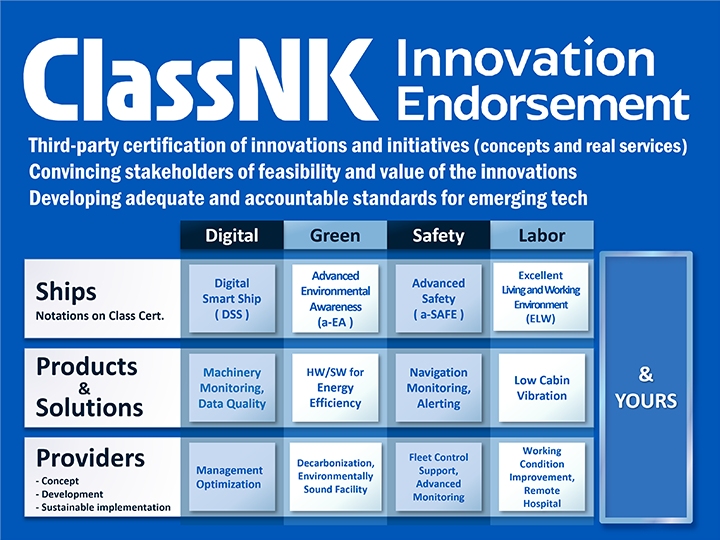 Background
Innovation Endorsement (IE) is ClassNK's initiative as the third-party certification body to create new value based on "Third party certification/ evaluation/ rating", which is one of the three business pillars on "ClassNK Digital Grand Design 2030"*1 announced in February 2020. It has described the future shape required to a class society in the digital society.
(*1) Related press release: "ClassNK develops its Digital Grand Design 2030"
Policy
The principle policy of Innovation Endorsement (IE) is as follows
Speed-focused: As the innovation progresses rapidly, we focus on the speed to fully follow their pace, establish evaluation technologies as a third party, and certify them.
Corporation with front runners: It is likely that a clear evaluation standard has yet to be established for innovative technologies, we examine and develop evaluation standards in collaboration with pioneering front runners.
Certification expected by customers and society: In response to the expansion of the scope of innovative initiatives, the scope and target of certification will be also expanded based on customer needs and social conditions.
Scope of certification
The scope of Innovation Endorsement (IE) includes four categories: Digital*2, Environment, Safety, and Labor. In addition, "Yours" demonstrates ClassNK's commitment to work to meet any needs of customers and society.
(*2) IE was launched focusing on digital innovation in July 2020.
Target of certification
Innovation Endorsement (IE) covers three categories as the target of certification: Ships, Products & Solutions, and Providers.
Notation: For ships, notations such as "DSS"*3 and "a-EA"*4 indicating advanced initiatives related to the digitalization and environment have been incorporated to the ship, are added in its class certificate and support the enhancement of the ship's value.
P&S certification: For products and solutions (P&S), we examine and verify their innovative functions based on our knowledge and experience as the third-party body and issue certificates for supporting the deployment of products and services.
Provider certification: For organizations (providers) engaging in innovative initiatives, we provide flexible supports from the early stage with three levels of certification, (1) concept, (2) development, and (3) sustainable implementation.
ClassNK is committed to contributing to the sustainable evolution of the maritime and offshore business by actively supporting innovative technologies through Innovation Endorsement (IE) , and looks ahead to trends of innovations, and continues its Innovation ecosystem to respond quickly to customers' advanced initiatives.
(*3) DSS: Abbreviation for Digital Smart Ship. Refer to Guidelines for Digital Smart Ship.
(*4) a-EA: Abbreviation for Environmental Awareness. Refer to Environmental Guideline Chapter 5.
For inquiries and applications, please contact
Digital Transformation Center, ClassNK
Tel: +81-3-5226-2738 (main)
Fax: +81-3-5226-2056
e-mail:
dxc@classnk.or.jp