ClassNK Archive Center

Outline
The Class NK Archive Center is intended to function as a shore-based storage facility for Ship Construction Files (SCF) and other documentation relevant to certain types of oil tankers and bulk carriers (as specified by SOLAS) which is operated in compliance with industry standards established by the industry group Shipbuilders' Association of Japan (SAJ)*. In addition, the Archive Center provides for the secure storage of relevant design drawings, etc. in a user-friendly manner, which has been as an ISMS (ISO/IEC-27001) certified**.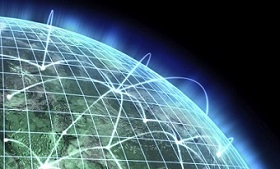 Press Release
ClassNK Archive Center (NKAC) is upgraded to be more convenient -Also simplifying procedures including application-
*For further details about these standards, please refer to the press releases issued by the SAJ on May 17, 2016 on their official website at https://www.sajn.or.jp/e.
Ship Construction File (SCF) Interim Industry standard May 17, 2016
**ISMS (ISO/IEC-27001)
The International Security Management System is an international standard showing the framework for effective utilization of a variety of information in a manner which aims to manage confidentiality, integrity, and availability in a balanced manner.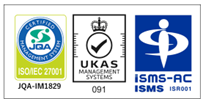 Unauthorized use prohibited
Scope:
Complete storage service for digital ship drawings and documents, including the ship Construction File (SCF) required by International Maritime Organization's Goal-Based Standards (IMO GBS), operated as part of the Archive Center.
Overview of ClassNK Archive Center
A shipyard, as the intellectual property (IP) holder, is requried to provide a Ship Construction File (SCF), which contains structural drawings based upon design and construction information, to a shipowner. As the party responsible for the storage of such information, the shipowner is then required provide means for safely and securely storing said information on board concerned ships throughout their operational lifetimes. Since this information includes highly-sensitive intellectual property matters related to shipbuilders, storage in a shore-based secure archive center is permitted.
ClassNK Archive Center assumes the role of such a shore-based archive center and provides high-level protection for the intellectual property found in SCFs using encryption measures such as obfuscation, etc.; moreover, the center stores SCF drawings (including those for ships registered to other classification societies) in a secure cloud-based platform for the entire life of the ship, and is capable of providing immediate support 24 hours a day in the case of an emergency, such as an accident at sea .
In addition to services provided by a shore-based archive center, the ClassNK Archive Center has also been providing a platform-based service for all vessel types since 2013 to not only further increase ease of use, but to also contribute to the overall unification of document storage and management.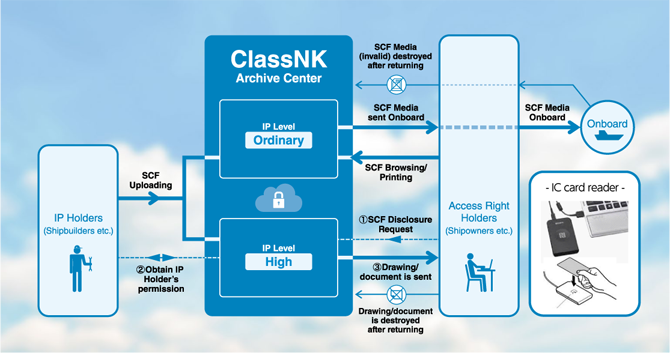 Related Information
Applications and Inquiries
Department
Contact Details
Information Technology Department
Nippon Kaiji Kyokai

Phone:

+81-43-295-5451

Email: