PrimeShip-HULL (Software for Part C Rules)
Introduction
PrimeShip-HULL is a ship structure design support system for structural strength evaluations based on the Rules for the Survey and Construction of Steel Ships Part C(*1). PrimeShip-HULL has an improved version of the intuitive UI/UX, automatic processing and design support functions and a linkage function with NAPA Designer(*2) that contribute to the reduction of design person-hours. The system strongly supports the efficiency improvement of the ship design process.
Features
Intuitive UI/UX
A unified and visual intelligible UI design with a menu structure that follows the operation flow, and an extensive help function make the system easy to use by anyone.
Automation and person-hour reduction
In addition to the automatic calculation and report generation functions, a mesh partitioning algorithm specially developed for direct calculation requirements based on the finite element method (FEM) makes it possible to automatically perform complicated tasks.
Versatility regardless of ship type
It is possible to model and evaluate various ship types with the same operability, thus greatly contributing to the reduction of the training time needed to become proficient at using the software.
API linkage with NAPA Designer
Using NAPA Designer's application programming interface (API), prescriptive rule calculations and direct strength assessments with PrimeShip-HULL can be performed seamlessly on NAPA Designer.
Component
Rule Calculation Software
It is possible to evaluate the strength of the inputted cross-sectional data using the prescriptive rule requirements for longitudinal strength, local strength, strength for primary supporting structures, fatigue strength, etc., as specified in Part C of the Rules. The software is equipped with flexible modeling functions and transparent calculation functions that allow users to check all calculation parameters and results instantly.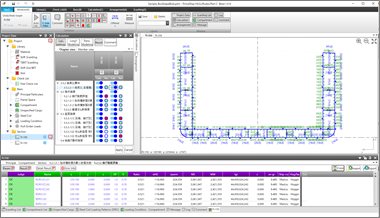 Direct Strength Analysis Software
It is possible to perform the finite element analysis (FEA), such as cargo hold analysis and full-ship analysis specified in Part C of the Rules. HyperWorks(*3) is used as the platform, and the software has various design support functions, such as automatic load generation, sensitivity analysis, integrated pre-post processing, etc., allowing seamless design review and optimization.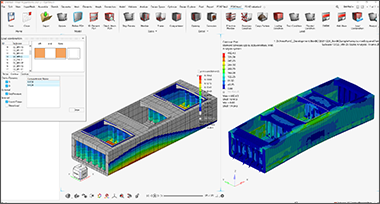 (*1) Comprehensively revised version of the Rules for the Survey and Construction of Steel Ships Part C that is to be applied to the ships contracted for construction on or after 1 July 2023
(*2) 3D CAD software developed and marketed by NAPA Group
(*3) CAE software developed and marketed by Altair Engineering, Inc.
Please click here to apply
If you cannot acsess to the application form, please contact PrimeShip-HULL support desk below.
Applications and Inquiries
Inquiries about Software
PrimeShip-HULL Support Desk
(Rule Development Department, Nippon Kaiji Kyokai)
TEL: +(81)-3-5226-2180
Fax: +(81)-3-5226-2172
Email: primeship-hull@classnk.or.jp
For the following software, please contact the PrimeShip-HULL Support Desk.
Software for the container carriers contracted for construction on or before 30 June 2023
Software corresponding to Chapter 15, Part C of the Rules for the Survey and Construction of Steel Ships for the ships contracted for construction on or before 30 June 2023
Software for structural strength guidelines
Hatch cover evaluation software
Related Sites